Singer-songwriter SZA is fighting to end environmental racism in America by planting one tree at a time.
On February 17, she announced her partnership with the non-profit organization American Forests to start TAZO Tree Corps – a paid, local workplace that will combat climate injustices and create new jobs in communities of color.
Across the U.S, Black and Brown communities have been negatively impacted by climate change. According to The New York Times, economically disadvantaged neighborhoods can be five to 20 times hotter than predominantly white areas in the summer months.
By planting trees and providing maintenance, TAZO Tree Corps and SZA increase air and water quality, improve mental health, lower energy, and create economic opportunities.
"Across the country, BIPOC communities are facing the worst effects of climate change because they live in neighborhoods that are disproportionately burdened with more pollutants and fewer trees," SZA said in a press release explaining the Tree Corps initiative.
"Planting trees can help improve everything—from air quality to economic opportunity to mental health—and everybody deserves these benefits," she added. "I'm proud to partner with TAZO and American Forests to stand up for environmental justice and start making an impact in neighborhoods that need it the most."
The "Good Days" singer explained she is combating environmental racism in Black and Brown communities.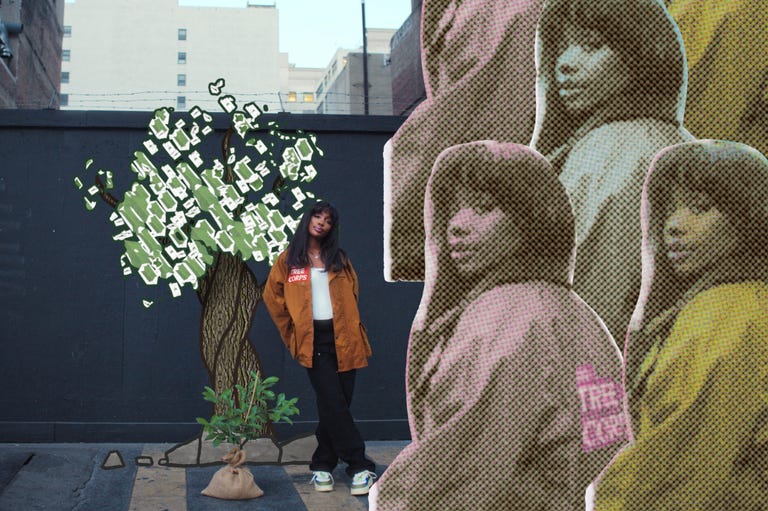 "I've lived in Carson, CA with TDE for like four years — maybe five — but when you drive through Torrance, that's all South Bay. So you're heading to Long Beach and all you see is factory, factory, factory," she told Billboard. "All the trees on those streets are dead. But these are all Black and Brown areas. And I'm not from L.A. — so for me to move to this place, I felt like, 'This is weird. All these trees are dead.'"
"Even in New Jersey, where it's like one of the nine worst food deserts in America, where there's no grocery stores or adequate anything, [there's no] tree experience," she continued. "There's no exposure. I think that people sleep on how that affects your mental health and the subtleties [impacted] in the essence of being a human being. It's kind of sad as hell."
To learn more about climate injustice in low-income communities, TAZO, SZA, and American Forests encourage those to visit TAZO.com/TreeCorps.